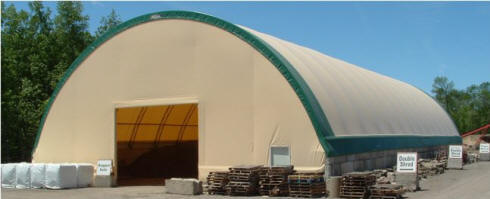 We manufacture our own bulk soil. It is kept dry in our hoop house and available all year.
We start with soil that is already rich in organic matter and has not been used for farming, thereby avoiding chemicals and nutrient depletion. We add compost, organic matter and sand and voilà! we have the wonderful soil people love!
Our bulk soil is available by the yard for pickup or delivery. It is also sold in half cubic foot bags.
Beautiful topsoil, handcrafted from the best raw materials around.
Like many other good things in life, good topsoil is hard to find. Many bulk topsoil suppliers get their soil from land previously used for farming. Chemical residue from fertilizers and pesticides create an unhealthy soil for establishing just about any type of new plant growth.
We start with high quality topsoil, accepting only soil from forested areas that are being developed to ensure that the raw soil is rich in nutrients and organic matter, free from pesticides and fertilizers. We then blend in additional compost material and sand and process the blended soil in a large screen. The screen will filter out the large debris (over 1/2").
Our Premium Blended Topsoil is an excellent choice for all of your topsoil needs including vegetables, flowers, trees, shrubs, lawns and even the occasional mud pie.
A word about the challenges of the topsoil process…
As more of the local forested areas are developed, the raw topsoil is becoming more of a scarce commodity. We choose to accept soil only from areas that have been forested. Some of the places our raw soil comes from have been unused for hundreds of years. While we process our soil in a way that places a high importance on consistency and quality, we screen roughly 200-300 cubic yards per day, and some inconsistencies can occur.
Occasionally, small pieces of debris not caught by our screen do end up in the finished product. Debris will definitely include small pebbles, twigs and other natural matter. Debris will sometimes include: small pieces of refuse including glass. Unfortunately, it is impossible for us to prevent this from ever happening. As the land is cleared by bulldozers, whatever debris that was in the path of the bulldozer will be pushed along and eventually loaded into large dump trucks. Once on our site, the soil is then again moved by a large bulldozer, dragged, stacked, mixed, screened and then dumped again. If a bottle had been on the original excavation site, it would have either been broken long ago, or broken by the first bulldozer pass. The topsoil is screened and blended with compost, but the screening process will only catch debris larger than ½", so smaller pieces will sometimes end up in the finished product. Please don't hesitate to contact us with any concerns you may have.
Read more about our topsoil here.
______________________________________________________________
Premium Blend Topsoil
Our soil is a blend of native topsoil, coarse sand and organic material. There is naturally a small quantity of included clay which helps this soil retain water. Our bulk soil is available by the yard for pickup or delivery. It is also sold in half cubic foot bags.
______________________________________________________________
Compost ~ Unscreened
______________________________________________________________
Click here to see our delivery areas and charges.
______________________________________________________________
Soil Amendments
~
Check out our Soil Amendments!
______________________________________________________________