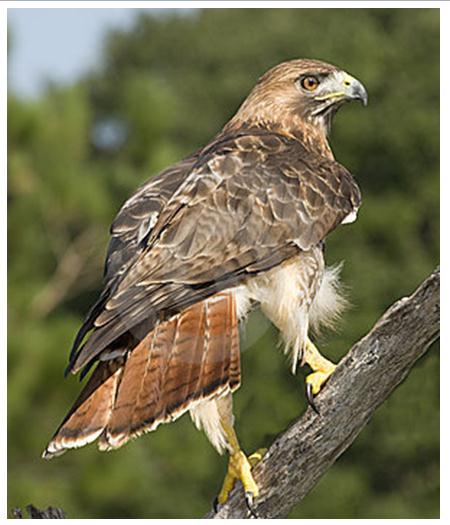 You should have no problem spotting our bird of the month since it is the most common hawk in North America. The Red-tailed Hawk is a bird of open country. Look for it along fields and perched on telephones poles, fence-posts, or trees standing alone or along edges of fields.  Mammals make up the bulk of most Red-tailed Hawk meals. Frequent victims include voles, mice, wood rats, rabbits, and ground squirrels. The hawks also eat birds, including pheasants, bobwhite, starlings, and blackbirds; as well as snakes and carrion. Individual prey items can weigh anywhere from less than an ounce to more than 5 pounds.  Pretty cool, until you think about cute little bunnies being carried away.  Red-tailed Hawks are large, sharp-taloned birds that can be aggressive when defending nests or territories. They frequently chase off other hawks, eagles, and Great Horned Owls.  Courting Red-tailed Hawks put on a display in which they soar in wide circles at a great height. The male dives steeply, then shoots up again at an angle nearly as steep. After several of these swoops he approaches the female from above, extends his legs, and touches her briefly. Sometimes, the pair grab onto one other, clasp talons, and plummet in spirals toward the ground before pulling away.
FUN FACT: The Red-tailed Hawk has a thrilling, raspy scream that sounds exactly like a raptor should sound. At least, that's what Hollywood directors seem to think. Whenever a hawk or eagle appears onscreen, no matter what species, the shrill cry on the soundtrack is almost always a Red-tailed Hawk.
Click on the play button below to hear the Red-tailed Hawk.
Podcast: Play in new window