The main insect pollinators, by far, are bees. They simply spend the most time at flowers because pollen and nectar are food sources for them and their young. Although everyone is familiar with the value and current troubles of honeybees, many people are simply unaware of the other approximately 3,999 species of bee currently in North America. Of all these, over 90% are solitary bees, which basically means they do not construct hives. Unlike the honeybee, these solitary bees are native to the US and not agriculturally reared (one of the possible contributors to the weakened state of current honeybees). Solitary bees have a wide range of appearance (some even look like wasps), habitat, and habits, but as a general rule they do not produce honey and are notoriously non-aggressive. Since they don't have a large food store and thousands of young to defend, they can just be a lot more relaxed as they go about their important work. The males don't have stingers at all; the females won't sting unless physically endangered (ie, stepped on or squeezed.) Solitary bees are just as valuable for pollination as honeybees, and are often used in conjunction with or even instead of, honeybees in the pollination of orchards.
Although there are 1,000's of species of important pollinator bees, here's three of the better known:
Bumble Bees: Familiarly large, round, slow-moving, black-yellow, and very fuzzy. Bumble bees are immeasurably important pollinators for many wild flower species that birds and small mammals rely upon for food; their longer tongue and wing-vibrating tendencies are particularly well-suited to some plants. Additionally, they can forage in cooler, wetter, and worse weather than many other kinds of bees. Bumble Bees start off as a single Queen every spring, who then builds up an entire hive over the course of the summer. The entire hive excepting the young Queens die off in the fall. The young Queen hibernates through the winter, and it all starts over again in the spring. Bumble Bees prefer to nest underground or very close to ground level.
Mason Bees: These bees are usually smaller than a honeybee and typically metallic blue or blue-black in color. A single female lays her eggs one at a time in the nest, packs the egg in with a food-ball of nectar and pollen, builds a wall over the egg, and moves on to filling the next chamber until the tube is full. Although they're called "solitary" bees, they don't mind at all being "neighbors" with the nests of other mason bees. Mason bees (also called Orchard Mason Bees) are particularly adept at orchard pollination because of their small size. Although they need a tube-shaped nest, they cannot construct it on their own. They most commonly choose hollow twigs, abandoned beetle nests, or man-made Mason Bee Houses.
Leaf-Cutter Bees: These solitary bees are "cousins" of Mason Bees. Where Mason Bees use a mud-like substance to build their egg chambers, Leaf-Cutter Bees use…you guessed it. They like to cut interesting circular shapes in ornamentals such as roses, azaleas, ash, redbud, bougainvillea and other plants with thin smooth leaves. These cut-outs very rarely harm the plant, so if you're seeing these shapes on your rose leaves, please think twice before using a pesticide. They then use the cut out leaves to make a cigar-shaped lining inside their nest site, finally capping the end with a wad of leaves when all the eggs have been laid. They prefer a tube depth of no less than 4" with an opening of about 2/8 inch wide. Like Mason Bees, they do not build their own "tubes" but instead work with what they find, are close to the size of a honeybee, and carry the pollen back to their nest on their bellies. Our Mason Bee Houses will also work well for Leaf Cutter Bees.
While honeybees are efficient at making significant amounts of honey and producing prodigious amounts of bees, solitary bees are the best at pollination. Seems backwards, right? Think of it as Nature's argument for the value of slowness. The solitary bees need to make many more trips to flowers to get the same amount of pollen and nectar that a honey bee carries in one trip. This "inefficiency" means they simply spend more time bumping around inside the flower heads spreading, shedding, and re-distributing pollen. They need such a small store for their nests, this works out perfectly well for them and wonderfully for the flowers.
What Bees Look For in a Flower:
Full of nectar
Bright blue and/or yellow petals (bees can't see red)
Sweet or minty fragrance
Open in the daytime
Enough petal space to land
[image credit: Nintendo]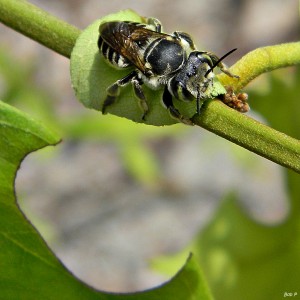 By Bob Peterson from North Palm Beach, Florida, Planet Earth! [CC BY-SA 2.0 (http://creativecommons.org/licenses/by-sa/2.0)], via Wikimedia Commons[/caption]If you see neat, circular holes cut from your leaves, they are made by a Leafcutter Bee and won't harm your plants. Don't use insecticide on the plant, so you won't harm the Leafcutter Bee!