Some of us gardeners face the challenge of having limited ground space or we just like plants so much we want more and more. Enter vines. The Rock Pile has number of these ground savers that can add color and interest to any landscape. We'll go over five of some of our favorites.
1) Clematis. This vine often provides weeks of gorgeous flowers. The timing and color of the flowers varies considerably and so does our offering. If we don't have it we'll try to track down your favorite from one of our many greenhouse grower friends. Clematis is generally lightweight and easily climbs trellises, arbors and the like. And The Rock Pile has the trellis and arbors that you will like. A win-win. Clematis is airy enough to let ramble in and amongst shrubs or up trees. It can give a rather plain evergreen shrub a summer coat of flowers if you wish.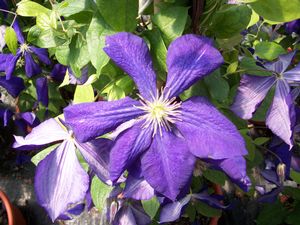 2) Climbing Roses. We have the thornless and fragrant Zephirine Drouhin with its rich pink flowers and the bi-colored red and yellow of Joseph's Coat Climbing Rose. Both of these roses are easy on trellises and can give a splash of color up a wall. Roses grow particularly well on the east of buildings where the morning dew evaporates quickly from their leaves helping to avoid leaf diseases.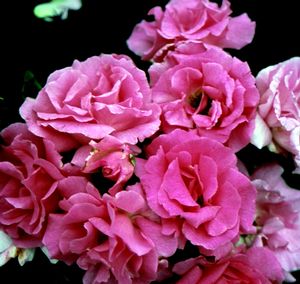 3) Grapes.
 Grapes and arbors go together like tacos and 
Tuesday
. What's more, our grapes are buy one get one free making a grape-filled arbor all the easier. Grapes were once a greater part of our area's landscape. Why not try to help bring them back and enjoy the fruits of your landscape?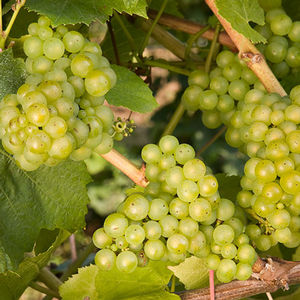 4) Honeysuckle. This is one of the few vines that favors shade. Talk about gardening for fragrance and pollinators! This vine can get a bit large but it could be ideal for screening a back shady corner, for example.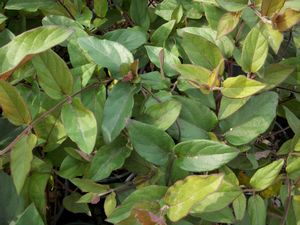 5) Wisteria. Last alphabetically, but certainly not least is wisteria. We offer a variety called Amethyst Falls. This variety is not shy to bloom. It loads up with purple flowers in spring and blooms sporadically and then heavily again in August. It has a more refined texture and slower growth rate than some of the old fashioned wisterias.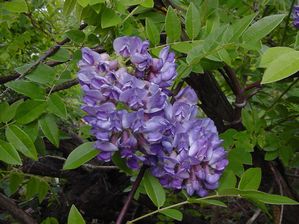 6) Not really #6. But how about a vine grown as a small patio tree? You've got to see our Trumpet (vine) Trees!They're loaded with brilliant orange flowers and the hummingbirds have noticed. Hurry in these beauties won't last!