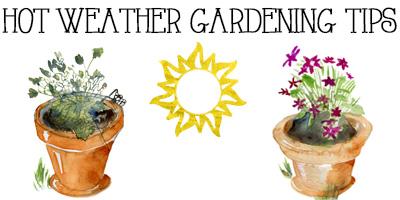 Okay, this isn't Phoenix, but it HAS been a bit hot and dry of late so what is a gardener to do?
1) Garden with plants that like the heat. Veggies like tomatoes and peppers like hot weather. And there's still time to plant- just less of it! Hurry in to The Rock Pile to tuck in an extra tomato plant or three or maybe a heat-loving Rosemary plant. Landscape plants like junipers and yuccas do very well in hot and dry conditions. Consider plants like these if you'd rather be behind a cold drink instead of a garden hose.
2) Keep those plants that need to be well-watered properly hydrated. Tomatoes, peppers and hydrangeas to name just a few, need to be well-watered. Observation is key. Probe the soil with a stick or your hands down to about 6 inches and if it is moist you can withhold water but if dry then give the plant a good drink. Monitor for moisture regularly and the more often the better but how about three times a week, say, Monday, Wednesday and Friday? The more you know the better you grow!
3) Keep out unwanted competitors- weeds. Weeds rob the plants we like of nutrients, water, sunlight and good looks. Pull them out or ask one of our garden center staff for help with an appropriate herbicide selection. The Rock Pile offers everything from Grass-B-Gone® to Roundup®.
4) Mulch your garden and landscape beds to keep weeds out and soil moisture in. For the garden this can mean untreated grass clippings or straw and for landscape beds it can be any one of our 18 mulches. Come to The Rock Pile and we'll get your landscape covered and your weeds smothered! Happy Gardening!