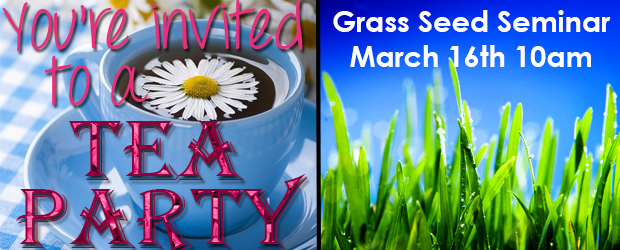 Saturday, March 16th 1pm
An awesome selection of tea with a lovely hostess!
The Rock Pile is having a Tea Party hosted by Kim Plzak, tea enthusiast and wonderful person. We're terribly excited about the upcoming opening of our new cafe, where we will serve excellent tea and we just can't wait to show it off to everyone.
On Saturday, March 16th Kim will walk us all through the simple, yet important steps of making a great cup of tea and explain a bit about the different types of tea and why you'll love drinking real tea!
About Bec's Teas
"Our business is to provide the freshest and best tasting tea in thoughtful and unique packages. We start with loose leaf that is bought from very reputable and conscientious suppliers. Our teas, tisanes, yerbe mate, and rooibos are then hand packed and hand wrapped."
Grass Seed Seminar!
Ask the expert! Saturay, March 16th 10am
Are you stuck on where to start to get to a great lawn? You're not alone, but we can help! Join us Saturday, March 16th at 10am to learn all you wanted to know about grass seed!