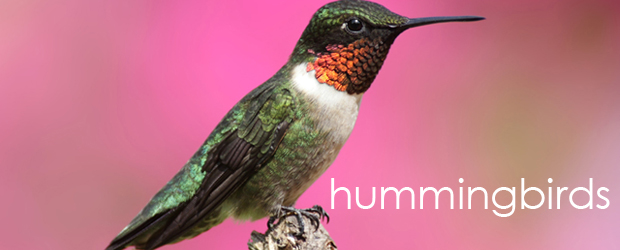 Hummingbirds are the only birds that consistently hover in flight. The unique anatomy of the bones and muscles of the wing and its attachment at the shoulder joint allow hummingbirds to fly even backward. While hovering, a hummingbird beats its wings at a rate of around 55 times per second. That rate increases to at least 75 times per second when flying forward at full speed.
Hummingbirds use up a lot of energy for flight. Research on these birds reveals that some of them can consume half their total weight in sugar every day. For example, an adult Ruby-throated Hummingbird weighs about one-tenth ounce (3 grams, or about the weight of one U.S. penny), so it must find 0.05 ounces (1.5 grams) of sugar daily. For a hummingbird this may represent 50 to 60 full course meals a day. Home owners can use this knowledge to attract hummingbirds to their back yards.
Hummingbirds have a surprisingly efficient, highly extensible, tubular tongue which reaches deep into a flower to suck up nectar. The hummingbird also uses his bill to catch small spiders and insects from within flowers for essential protein supplements to its diet.
For attracting hummingbirds, try offering a nectar feeder!  You can either use a convenient pre-made mixture or make your own.  If making your own solution, use the recommended one part granulated sugar and four parts water (a weaker, less expensive solution of one part sugar to five parts water also may be acceptable). One cup of sugar mixed with four cups of water makes a good amount for starters. Bring the water to a rolling boil and add the sugar, stirring the mixture to dissolve the sugar completely. Let the sugar solution cool to room temperature and fill the hummingbird feeder. The feeder should be checked every two to three days to be refilled. At least once a week it should be washed completely then rinsed very thoroughly to deter growth of molds and bacteria, which can grow rapidly in the sugar solution on warm summer days and may be harmful to hummingbirds.
If you want to attract hummingbirds to your yard over the long term, it is recommended that you also give serious consideration to planting perennials that are naturally attractive to hummingbirds.  The Rock Pile Garden Center will be carrying a number of perennials sure to please hummimgbirds such as bee-balm, columbine, lobelia, astilbe, coreopsis, dianthus, foxglove, echinacea, blanket flower, lavender, garden phlox, Russian sage, sedum and veronica.  Add these shrubs to your yard for even more hummers: weigela, crapemyrtle and leptodermis.  With a little care the flowers represent a long-term investment. Another plus in planting flowers to attract hummingbirds is that many of the same plants that attract hummingbirds also attract butterflies.  For a  list of plants that Hummingbirds will love CLICK HERE!
Press play below to hear the Ruby-throated Hummingbird.
Podcast: Play in new window