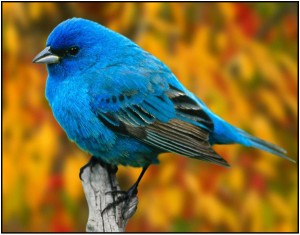 Sometimes nicknamed "blue canaries," these brilliantly colored yet common and widespread birds whistle their bouncy songs through the late spring and summer all over eastern North America. Look for Indigo Buntings in weedy fields and shrubby areas near trees, singing from dawn to dusk atop the tallest perch in sight or foraging for seeds and insects in low vegetation.
A breeding male Indigo Bunting is blue all over, with slightly richer blue on his head and a shiny, silver-gray bill. But, like all other blue birds, Indigo Buntings lack blue pigment. Their jewel-like color comes instead from microscopic structures in the feathers that refract and reflect blue light, much like the airborne particles that cause the sky to look blue. Females are basically brown, with faint streaking on the breast, a whitish throat, and sometimes a touch of blue on the wings, tail, or rump. Immature males are patchy blue and brown.
Indigo Buntings eat small seeds, berries, buds, and insects. Common seed forage includes thistles, dandelions, goldenrods, and grain such as oats; berries eaten include blueberries, strawberries, blackberries, serviceberries, and elderberries. Spiders and insect prey, which form the majority of their diet during summer months, may include caterpillars, grasshoppers, aphids, cicadas and beetles such as canker worms, click beetles, and weevils. The brown-tail moth caterpillar, which is covered with noxious hairs that cause nasty rashes and respiratory problems in people, presents no obstacle to a hungry bunting. On arrival to breeding grounds in spring, Indigo Buntings may feed on twigs, buds, and leaves of trees including aspen, cottonwood, oaks, beech, elm, maple, and hickory.
Podcast: Play in new window