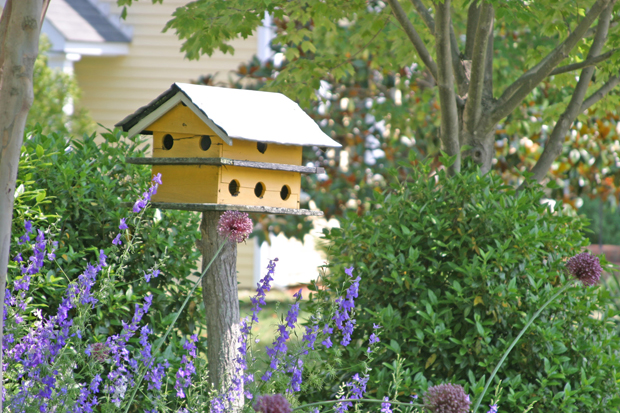 The very best way to attract birds is to offer them the kinds of foods they would find and consume in nature, and that starts with offering bird-friendly plants.
TREES: Hackberry, White Spruce, White Pine, Red & Sugar Maples, River Birch, Hornbeam, Flowering Crabs, European Spindle Tree (Eastern Wahoo), Pagoda Dogwood, Cornelian Cherry Dogwood, Black Hills Spruce, White Spruce, Colorado Spruce, White Pine, English Oak, Regal Prince Oak, Bald Cypress, Ironwood Tree (Hop-Hornbeam), Norway Spruce, Flowering Dogwoods, Sweet Gum, Black Gum, Sassafras, Chokecherry, Japanese Tree Lilac
SHRUBS: Golden Elderberry, Black Lace Elderberry, Serviceberry, Beauty Berry, Western Arborvitae, Hemlock, Button Bush, Cotoneasters, Vernal & Common Witch-Hazel, Red & Yellow Winterberry, Arrow Wood Viburnum, Nanny Berry Viburnum, Black Haw Viburnum, American Cranberry Bush Viburnum, Red Chokeberry, Summer Sweet, Spice Bush, Bayberry, Barberry, Fragrant Sumac, Snowberry, Cardinal Candy Viburnum, Blue Muffin Viburnum, Witherod Viburnum, Black Haw Viburnum, Michael Dodge Linden Viburnum, Winterthur Viburnum, Molly Schroeder Viburnum, Tea Viburnum, Pink Beauty Viburnum, C.A. Hildebrandt's Wrightii Viburnum, Blueberries, Junipers, Japanese Yew, Eastern Arborvitae, Gray Dogwood, Stag Horn Sumac, Rose of Sharon, Lead Plant (False Indigo), Hollies
GRASSES: Northern Sea Oats Grass, Dallas Blues Switch Grass, North Wind Switch Grass, Flame Grass, Little Zebra Grass, Little Bluestem Grass
The Rock Pile also carries countless PERENNIALS for attracting songbirds, hummingbirds and butterflies!  Check them out for yourself!