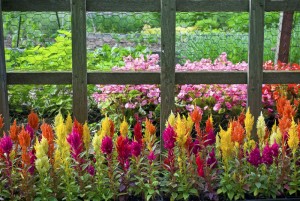 One Rock Pile employee stated, "When I first started getting interested in gardening, I thought, why would anyone use annuals?  You have to plant them every year.  That's a lot of work, but now I am starting to appreciate annuals more and more."  Gardening is a labor of love and the results are gardens you can enjoy with your family, friends and neighbors.  So, why should you choose annuals?  Because they give you a big impact all season long and it also gives you opportunity to change your garden's look each year.  Think of it as clothing and accessories for your yard.
The term annual is applied to plants that complete their life cycle in the span of one growing season.  This means they come up in the spring, grow, flower, set seed and then die after frosts in the fall.  There are annuals (geranium, impatiens, coleus and lantana to name a few) in northern climates that are in fact perennial in warmer climates.  They could be dug up, potted, and brought indoors for over-wintering.  There are other annuals (cleome, snapdragon, amaranth, cosmos and petunia are a few) that may appear to come back the next year, but that is only because they drop a large amount of seeds in the fall.
There are annuals for both sunny and shady areas.  For heavy shade, select plants like impatiens, begonia, coleus, and fuchsia.  For light shade choose plants like pansy, alyssum, and dianthus.  Hot dry areas are common along the edges of pavement or in front of light colored, south facing walls.  If planting in these areas choose plants like zinnia, petunia, and blue salvia.
Here's the best reason why you should plant annuals… they require very little care to keep them attractive and blooming from late spring well into fall!  Some flowers fall off cleanly and do not need to be removed.  Others require "deadheading or pinching off."  The tops of some plants such as petunias and impatiens may be cut back 6-8 inches in mid to late summer after the first flush of flowers has subsided to promote a second flowering period in the fall.  After cutting, fertilize and water well to encourage re-growth.
So when you are considering buying plants, add an annual accessory to your yard.  This could be area plantings, a hanging basket, or a patio container.  All of these options create a beautiful splash of color to any garden.