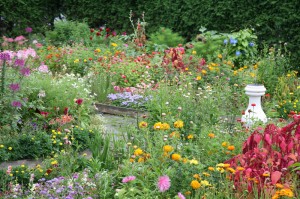 Rock gardens are an easy way of adding dimension to your landscape. They can be as big or as small as you like. At The Rock Pile and Garden Center we not only have a number of different kinds of natural stone to start off your project, but we also have all the plants, soil and everything else you will need to create a beautiful and interesting element in your yard.
First determine where you would like to create this feature. The dimensions will guide you as you pick out your materials. The process is rather like putting together a jigsaw puzzle, except YOU determine how that puzzle turns out. Begin with the rocks. Choose rocks of various sizes and shapes. You may not want to place all of your rocks right away. Remember, it's a lot easier to change your mind and move a rock to another position than it is to dig up plants and replant them somewhere else. Keep in mind that there's a delicate balance between planting and rock placement. Your goal is to cover as much of the surface as possible with rocks and plants. The look to achieve would be a mix of rocks with plants popping out between, around and over them. Rock gardens are composed of plants that require a soil with good drainage. Use our Premium Blend Topsoil or mix in our Top Dressing or Cow Compost into your current soil to promote better drainage.
When selecting plants, there are a few things to take into consideration. Focus on foliage which will be the backbone for your composition. Choose different foliage textures; plants that creep, crawl or remain clump-like work well.  Contrast in texture, size and color will create a visually stimulating effect.  And while the visual effect is important, it is not the only factor. Plants as living things have growing requirements to take into consideration. Think light requirements. Is your area shady or sunny? This may expand or limit your plant selection. Install plants like our "Nooks and Crannies", which are just perfect for this project. These smaller perennial plants are very easy to work with and are all you really need to create a beautiful rock garden.  The end result will be a garden with many levels, textures, colors and interesting visual points.
This is an easy project that the whole family will love. Don't stress over this project, it's a fun and easy way of spicing up your landscape. Think of rock gardens like this… It's not Mozart, it's Miles Davis, it's not Michelangelo, it's Jackson Pollock, it's not Shakespeare, it's your kids putting on a play in your backyard.
Check out our selection of Natural Landscape Stone here!